CLU250 Dimmable Oyster with Sensor Option. Double Insulated.
Warm White or Cool Whie with optional ocupancy sensor
Description
CLE250-DWW
CLE250-DCW
CLE250_SCW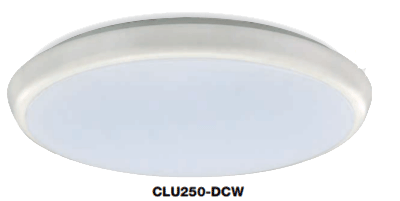 Double insulated and IP54 suitable for wet areas
Comes in Warm White 3000K or Cool White 4000K
Dimmable
Power 12 Watts light output 1000 Lumens with 120 degree beam
Size 250mm diameter and 45mm deep.
Integrated driver connects directly to the mains

The option with an occupancy sensor can be chosen from the drop down box. This model is only in Cool White (4000K)
The sensor is not adjustable and comes on when movement is detected and switches off 30 seconds after movement ceases.