T5 LED Strip Lighting
Directly linkable to create continuous lines of light
01296
Kitchen Lighting and Strip Lighting, LED Strip Lighting
Description
SLT5WW-300



LED modules in 4 lengths:

SLT5WW-300 255mm long 3 Watts 310 Lumen
SLT5WW-600 558mm long 7 Watts 680 Lumen
SLT5WW-900 892mm long 14 Watts 1300 Lumen
SLT5WW-1200 1192mm long 18Watts 1700 Lumen
The light colour is Warm White 3500K

Each length is standalone or can be linked to any other module to create a continuous line of light.
The lights are fully integrated and connect directly to the mains

See the adjacent listing to select power cables and connectors.
If you have an installation it may be easier to email sales@nzlightingltd.co.nz for a quote
SLT5WW Connectors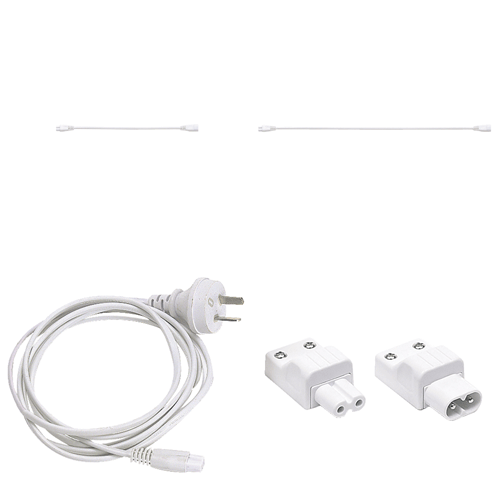 Pictured from Top Left:
SFT5-C150 150mm long cable connector - use for corners.
SFT5-C300 300mm long cable connector
SFT5-C1800 1800mm long power connector, the plug can be cut off for hard wiring
SFT5-PLUGS These come as a pair to use when butting modules.

The maximum number of lengths that can be connected in one run must total less than 120 Watts

Choose each type of connector separately to build order - drop down box is below the price.