Enclosed 100mm Cut Out Downlight
Double Insulated and rated CA135 allowing abutted Insulation but not covered
01518
Recessed Downlights
Description
SD100 downlights

Fully enclosed downlights that stop draughts and dust from the ceiling space. They are rated CA135 which allows the insulation to be abutted to the fitting minimising heat loss.
Note there are small vents to prevent overheating of incandescent bulbs (see exploded photo)

These fittings are made in New Zealand to AS/NZS60598 Electrical Standards and comply with the new downlight regulations commencing on 10 May 2012. Suppliers Declaration of Compliance is available.

They have a thermal cut out and auto reset to protect against overloading and misuse. They are double insulated and do not need an earth wire.

They use an R80 reflector lamp of 100 watts or for energy saving, they use an R80 compact fluoro. The fitting comes without bulbs, if you would like these choose the type form the dropdown box

For rim colours available see right.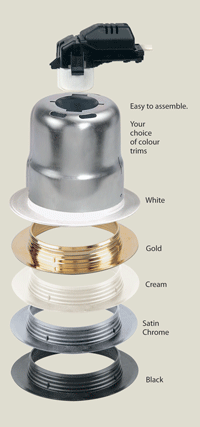 Cut out hole 105mm




















Code 1518

For more information email sales@nzlightingltd.co.nz
or phone + 64 9 475 6747