LDL100 LED Equivalent 100 Watt Incandescent Downlight 8 Watts
Straight replacement for Incandescent or CFL downlights with a 100mm cutout
01815
Small LED Downlights Up to 100mm Cutout, Medium LED Downlights 100mm to 125mm Cutout
Description
Light plus Driver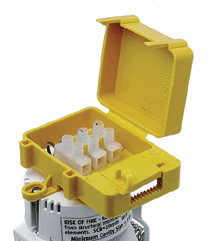 Junction box is the same as existing downlights, allowing for a simple changeover


Designed by Superlux in New Zealand specifically for local conditions. It is engineered with a forward travelling heat sink for optimum light output and minimum heat going into the ceiling cavity.
Incredibly the 8 Watt LED matches the light output of the 13 Watt R80 reflector compact fluorescent creating power savings and no bulb changes for the same light levels.
Ceiling is sealed - no openings
Insulation can be abutted and covered with no driver to go above the insulation
Fits into cut out holes 100 to 110mm in diameter
Lumen output 600 at 3000K
Beam angle 60 degrees no glare
Dimmable
Available in white or chrome
The light fitting is a straight replacement for the SD100 series or any downlight with a cut out hole between 100mm and 110mm. The faceplate has an outside diameter of 125mm. The changeover is very simple with the new fitting having the same connections as the old downlight.

Recommended RRP $54.50

The diagram below indicates why the Lumen output of the LED and incandescent are not directly comparable.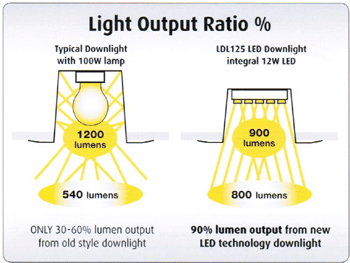 Download SDoC for Building Code and Insurance

Feedback.

J. P.
Department of Mechanical Engineering
University of Canterbury

Comparing them to the existing downlights I have installed, - at floor level they have similar illuminance to a 15W R80 Reflector CFL or a 23 W spiral CFL (rated 1300 lumens) in a standard downlight fitting. The colour temperature is pleasing too.