Twinpack of two 12W LED Downlights
Two 12 W downlights one driver $26.95 per light
02047
Small LED Downlights Up to 100mm Cutout
Description
Lights plus Driver GEOLED

Smart Thinking from Eurotech to save the cost of one driver without compromising quality


Eurotech ICDLTWIN12W Two 12 Watt LED downlights with a shared driver that cost only $26.95 each in white or $29.20 in Brushed Chrome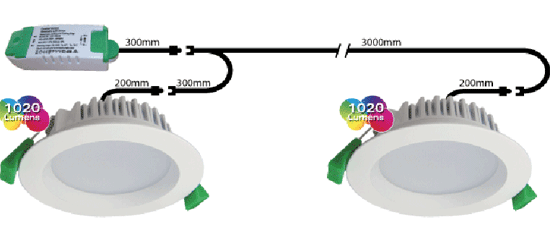 12 Watt downlight
3 meter cable with rapid connectors joins lights and driver
Each light 1020 Lumen - colour Warm White 3000K
Cut out can be from 82mm to 98mm - front face plate is 108mm in diameter
Rated IC-F Insulation Cover and IP44
Dimmable
Rated Life 45,000 hours
Warranty 5 years
Identical to the ICDLR12W3K-WH so the single and doubles can be combined for overall savings.

SDoC for ICDLR Series. Download Certificate for Building Code and Insurance purposes.