NOVA Downlight Choose Colour Temp 9 Watts
9 Watt 700 Lumen plug in downlight
02441
Small LED Downlights Up to 100mm Cutout
Description
NOVA1A (3000K) NOVA2 (5000K)

Dimmable Downlight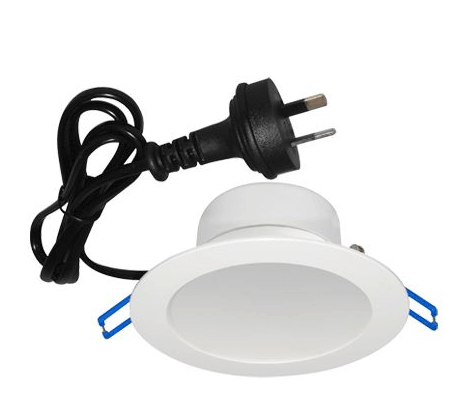 9 Watts , produces 700 Lumen Warm White or 800 Lumens Daylight with a 90 degree beam

Dimmable with the following dimmers:
HPM Legrand – CAT400T (2-8pcs)
Clipsal – 4061E2PUDM (2-8pcs)
Clipsal – 450TM (2-8pcs)
Lumex digital – LTID450LS (2-8pcs)

The colour temperature can be selected by adjusting switches on the side of the housing. Choices are 3000K Warm White.,4000K Cool White, or 5000K

3 Year replacement warranty, return failed light for replacement

Normal life expected 30,000 hours

Cut out 90 to 105mm Faceplate is 115mm in diameter.

This light is distributed by CLA Lighting

These lights are rated IC-F and comply with AS/NZ Standards.



LED downlights are not expected to last forever so overseas it is common to set up the installation so that replacement is very simple. The lighting circuit is connected to the light with a socket,which is why these lights intended for the Australian market come with a plug.
This plug can be removed and the light can be hard wired into the lighting circuit. See below.