LED replacement for Fluorescent Strip Lighting
Three lengths to create continuous line of Light
02252
Kitchen Lighting and Strip Lighting, LED Strip Lighting
Description
Eurotech Lighting LLP
LED Strip Light




The strips can stand alone or be joined to create even lighting across a ceiling or under cabinets.
White body with an opaque polycarbonate diffuser
Switch on body.
Light colour 4000K
Each unit comes complete with 1.8 meter power connector, no gap abutting joiner, and a 70mm cable link and mounting clips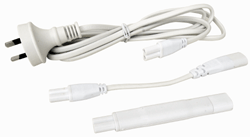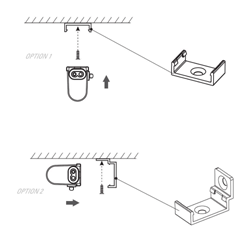 LLP8
8 Watts producing 700 Lumen
554mm long x 23.5mm wide x 37mm high
LLP13
13 Watts producing 1150 Lumens
854mm long x 23.5mm wide x 37mm high
LLP17
17 Watt producing 1500 Lumens
1154mm long x 23.5mm wide x 37mm high
Choose length required and number required from the drop down boxes. If you require different lengths do this in separate purchases.

The LED strip gives a superior result to fluorescent, the ends of the strip are lit to give a continuous strip with no dark patches. A fluorescent strip is on the left and an LED strip on the right below.