Sylvania T8 Fluorescent Tubes Carton of 25
Full Cartons of 25 tubes Most widely used T8 tubes with three light output colour options.
01559
Fluorescent and LED Tubes
Description
Available in cartons of 25 only. Because of the damage experienced in shipping less than full cartons we can no longer send less than a full carton.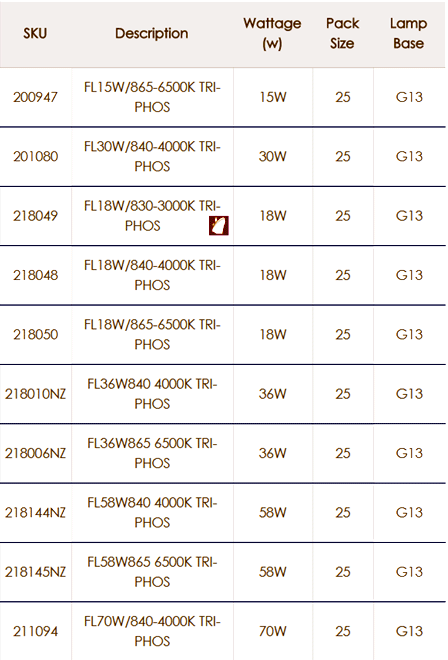 Use product code number to select the required tube from drop down box.

T8 tubes are one inch (25.4 mm) in diameter

Note: The Wattage determines the length of the tube
15 Watts 438 mm
18 Watts 590 mm
36Watts 1200 mm
58 Watts 1500 mm
The colour of the light is given by the numbers:
830-3000K Warm White usually used for living areas
840-4000K Cool White usually used for offices , shops and working spaces
865-6500K Daylight inspection rooms, clinics and working spaces.

Fittings with magnetic ballasts use starters, it is a good idea to change these with the tube and starters can be added using the drop down box.

The returns policy does not apply to light bulbs. When these are returned they are effectively second hand and cannot be resold.
So please choose the bulb carefully