C4025L Bollard Top
Bollard top, fits on to a 76mm diamter resin or galvanised pole.
Description
C4025L-BL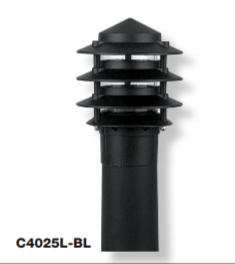 Takes an E27 base bulb in LED, compact fluorescent or incandescent maximum 60 Watts
Aluminium with a glass diffuser
Size 200mm high and 150mm in diameter.
Mounts onto a BZ-Pole1 (1 meter) or a BZ-Pole2 (2 meters). A galvanised pipe can be used 76mm outside diameter.