Glass Wall Lantern
Glass body with a non corrosive plastic cover and base 60Watt max bulb can use LED
Description
F3356-SI

Glass Lantern, made in Germany with a silver base and cap. The dimensions are:
260mm in diameter and 260mm high. The light is double insulated.

The bulb can be a maximum of 60 Watts traditional type but a 6 Watt LED will give the same amount of light. If you would like a 6 Watt filament LED bulb, select this in the option box.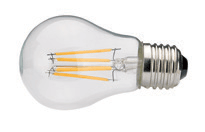 6 Watt LED bulb