Halcyon HighBay LED 200W,150W or 100W
Highbay series for industrial use.
02386
High Bay/Low Bay Lights
Description
P450 1PNL 200W
P449 1PNL 150W
P448 1PNL 100W

Simple to change existing Metal Halide High bays, use the same chain suspension and plug into the existing socket.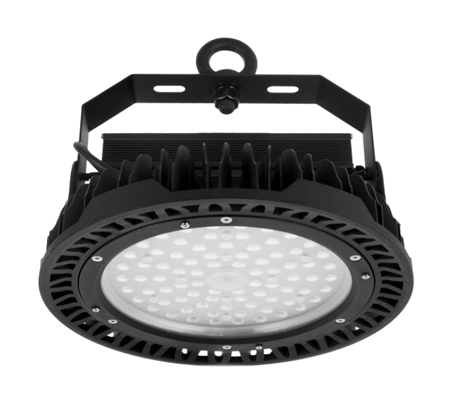 The highbays come in three sizes with a 5 year Warranty
200Watt equivalent to a 400 Watt Metal Halide fitting Simple Changeover.
SizeD320 x H278mm
Output 25,000 Lumens
Light colour 4000K Natural White or 6500K Daylight
IP Rating IP65
CRI 85 expected life 54,000 Hours (L70)
Beam angle 90°
Material Aluminium / Polycarbonate
Driver Incorporated (Non Dimmable) Pre wired with three pin plug
Weight 5kg
Application Industrial Highbay Flood light
150 Watt
Size D320 x H268mm
Output 18,750 Lumens
Light Colour 4000K Natural White
IP Rating IP65
CRI 82 DIODE Luxeon expected life 54,000 Hours (L70)
Beam angle 90°
Material Aluminium / Polycarbonate
Driver Incorporated (Non Dimmable) Pre wired with three pin plug
Weight 5kg
Application Industrial Mid/Highbay Flood
100 Watt
Size D320 x H274mm
Light Colour 4000K Natural White
Output 12,800 Lumens
IP Rating IP65
CRI 82 DIODE expected life 54,000 Hours (L70)
Beam angle 90°
Material Aluminium / Polycarbonate
Driver Incorporated (Non Dimmable) Pre wired with three pin plug
Weight 5kg
Application Industrial Lowbay Flood