Ambrosia Pendants
Ambrosiawrought iron pendant and matching wall light.
01780
Superlux Decorative Pendants
Description
Ambrosia Pendant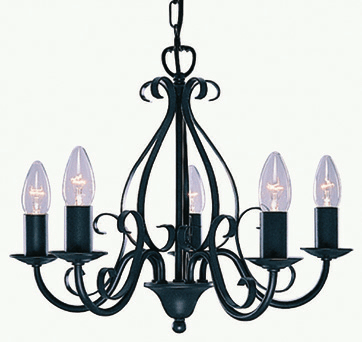 R1895-5P-BL Wrought Iron Pendant 460mm diameter and 460mm high. Ceiling rose is 105mm
diameter. ($127.00)
The matching wall light R1892-2B-BL has two lights. ($63.00)

All the lights are Small Edison Screw (E14) candle bulbs. These are not supplied. These can be bought separately.
Incandescent traditional candle bulbs
LED candle bulbs.

Choose the light from the drop down box on the left.