Hunza Pillar Light
12v Halogen Up/Down light
01603
Exterior and Landscape Lighting
Description
Pillar Light
Price shown is for the 12 Volt Aluminium version. Email for a quote on the configuration you are interested in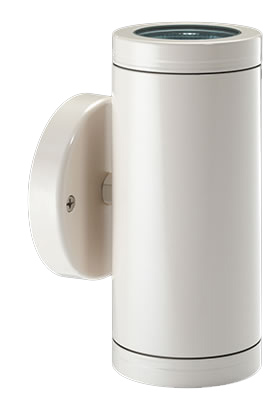 The pillar light highlights the wall both upwards and downwards making it the best choice for entrances, beside garage doors, highlighting a pillar or lighting a wall giving reflected light over decks or paths.

These lights can be made of high grade NZ aluminium and finished in the following colours
BK - Black PR Primrose
BZ - Bronze RG Beige
GN - Green OG Olive Green
STAR - Silver Star DG Dark Grey
WH - White WB Birch

and in solid copper or solid marine 316 grade stainless steel. Either of these are recommended for seaside properties, where they have a 10 year warranty.

The light can be made with 12 Volt or 230 Volt LED bulbs or the PURE LED version.
Hunza Pure LED is a modular LED system with a unique Cree Plug-and-Play circuit board that allows the LED to easily be unplugged and replaced. The installation can be powered by 230 Volts or 12 Volts AC from a wire wound garden transformer.
Email with your requirements for advice or a quote.