Hollywood Mirror Lights
Hollywood Mirror Lights, traditional style still preferred for cosmetic and theatre use
superluxhollywood
Bathroom Lighting
Description
These are traditional dressing room lights which have been manufactured by Superlux in Auckland since the 1940's. The modern lights are still assembled in Auckland.
These lights are still popular for dressing rooms and cosmetic mirrors.
The fitting comes in three lengths:
3 Lights (390mmm long)
5 lights (630mm long)
7 lights (870mm long).
These can be joined end to end, They can also be joined at the corners so that a continuous fitting can be built up. See the joiners in Bathroom Lighting for these items.
The bars are 52mm wide
The fittings are open at the back so the power can enter at any point along its length.
The fittings are available in white, chrome or brass.
The light fittings do not include bulbs, but 5 Watt LED bulbs can be added from the drop down box above. The bulbs used are small globes with a bayonet base.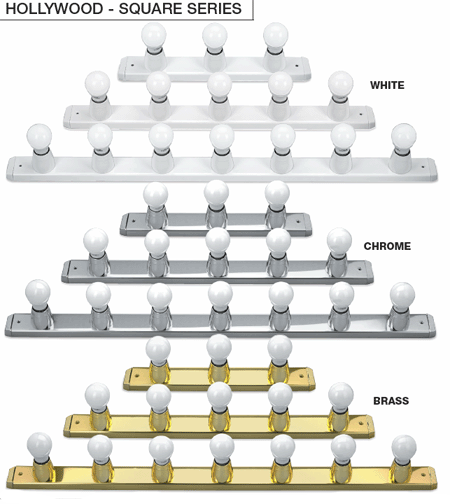 Contact us at sales@nzlightingltd.co.nz or 0800NZLIGHT for more information