Square Face plate version of the ICDLR12 12 Watts
Cutout 90 to 92 mm Same power and characteristics as the round version
01871
Bathroom Lighting, Small LED Downlights Up to 100mm Cutout
Description
Light plus Driver
ICDLS12W3K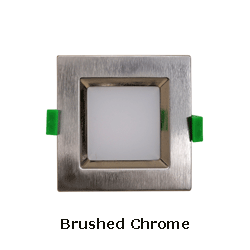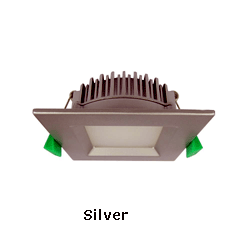 Square face downlight with a circular cut out.
IC-F Rating can be installed under insulation IP44 can be used in bathrooms and exterior soffits
Dimmable with most used drivers in NZ
Aluminium: White, Silver or Brushed Chrome finish
980 lumen 12W Samsung SMD LEDs 3000ºK Warm white
90° Beam angle Optimum for no glare and light spread
Life to 70% of original brightness : 25,000hrs
5 Year warranty
Front face: 100x100mm
Round cut-out: 90 mm or 82mm Dia if 4 x 4mm deep notches are cut to fit faceplate mounts.
Complete with dimmable driver with easy install ratchet cable clamp mechanism

After 25000hours use about 25 years at average use the light will still work but it will have dimmed to about 680 Lumen - still quite bright and it will continue on for many years slowly dimming.