Round Profile LED Strip Mirror Lights MLR IP44
Efficient mirror lighting with simple clean lines
Description
Eurotech MLR Series

Three sizes available
600mm long, 12 Watts producing 800 Lumens
900mm long, 18 Watts produces 1150 Lumens.
1200mm long, 24 Watts produces 1450 Lumens
The beam angle for all models is 120 degrees

Rated IP44

All lengths are 70mm deep and 50mm high with a central rear cable entry

The light colour is either 3000K Warm White (see picture) or 4000K Cool White

Three year warranty with a 30,000 hour expected life

Use the drop own boxes under the price to select the model you require. If you make no changes the model selected is 600mm long in Warm White.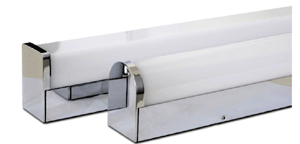 End detail of round and square series. The chrome plating is highly reflective

Download the Statutory Declaration of Compliance (SDoC)