14 Watt LED Dimmable Ceiling Light
Eurotech Lighting 14 Watt ceiling button white or silver trim 3000K or 4000K
Description
EV14W3K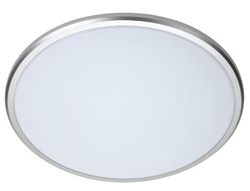 14 Watt LED surface mounted ceiling light in 3000K Warm White or 4000K Cool White.
Light output 1000 Lumen at 3000K or 1150 Lumens at 4000K, beam angle 180 degrees.
Trim in white or silver
290mm diameter and 50mm high
LED's are Epistar SMD2835
Suitable for small bedrooms or hallways
Dimmable below is the test results for the most common NZ dimmers.
DIMMER TESTING WITH: EVD14W3K
DATE: 29.4.16
DIMMER USED
PASS/FAIL
MAX LUX LEVEL WITH DIMMER IN CIRCUIT 100%
MIN LUX WITH DIMMER
% WHEN DIMMER ON MINIMUM SETTING
COMMENTS
PDL624TM
PASS
74.5
13.3
18%
Good smooth control
PDL CAT654+654M
PASS
75.6
19.6
26%
Good smooth control
PDL CAT633M Leading edge dimmer
PASS
81.3
0
0%
Very good smooth control
CLIPSAL 4061E2PUDM
PASS
72.5
0
0%
Good enough control
CLIPSAL 32E450TM
PASS
76
13.3
18%
Very good smooth control
PDL CAT854M Universal
PASS
75.7
18.3
24%
Good smooth control
LEGRAND HPM EM450UP
PASS
72.3
0
0%
Smooth quick transition
LEGRAND HPM EM400A3P
PASS
75.5
0
0%
Good smooth 4 second transition
LEGRAND HPM AR400A3PM
PASS
75.8
0
0%
Good smooth 4 second transition
LEGRAND HPM 450PMWE/CAT 450P
FAIL
60
0
0%
Flickers hard to control
LEGRAND EM400A2P
PASS
61.2
0
0%
OK 3-4 second transition
LEGRAND EM400 TR
PASS
70
11.6
17%
Good smooth control
ALL SALES ASA500
PASS
80.2
0
0%
Good smooth control
KIWI K005U (new modified version)
PASS
77.4
0
0%
Very good smooth control
HPM LEGRAND CAT 400T
FAIL
70.1
39.4
56%
Smooth but poor range
HPM CAT 420E
FAIL
70
7
10%
Flickers @ 3/4 turn then goes down to 40 lux full turn
CLIPSAL 32ELEDM
PASS
75
5.3
7%
Very good smooth control