Brushed Aluminium Cabinet or Stair Lights
LED lights for stairs or shelving in single or doubles.
01419
Stair and Hallway Lights
Description
R715
\Attractive LED lights which come either single or double.
The fittings can be used as stair lighting or for cabinet lighting. In both situations their low heat output makes them perfectly safe.
The LED's are 1.2 watt in warm or natural white and can be tilted and rotated in the housing if required.
The single is 60mm square and 17 mm deep. The double is 112mm x 60mm and 17mm deep.
If used in a cabinet these lights can be installed without ventilation making them suitable for installing recessed into shelves without penetrating the top of the shelf.
The lights operate with a 350mA driver. one driver will operate all the lights in a circuit.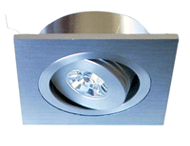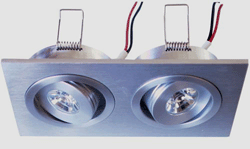 R715 R716
Cabinet Light Square 25° Tilt - Single

Power:

350mA Constant Current DC

Diode Colour:

Warm White 3150K or Nat. White 4000K

Suitable For Interior Use

Cabinet Light Rectangular 25° Tilt - Twin

Diode Colour:

Warm White 3150K or Nat. White 4000K

Suitable For Interior Use
For more informationemail or call +64 9 475 6747