Ground Spread Path/Wall Light
Ground spread path lighting
Superluxll3400
Deck, Driveway Lighting
Description
Ground spread path lighting

These modern lights give an even light over 360 degrees and are perfect for lighting a path or area. They use a low voltage (12 volt) halogen capsule which can be up to 35 watts or as low as 5 watts depending on how much ambient light you need.
They also can use a 12 Volt LED capsule slect in box above.

The fittings are made of cast aluminium and are powdercoated in either silver, copper or black. The light is 180mm high and 55mm in diameter.
The light can be mounted on a drive or the top of a post or wall by using the base flange see below. The light comes with a spike for garden mounting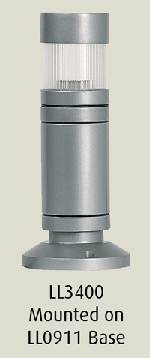 Contact us at sales@nzlightingltd.co.nz or 0800NZLIGHT for more information
.